356 total views, 3 views today
Last Updated on January 26, 2021 by Frank Davis
Seeing your mom, dad, spouse, or other loved ones go through hospice care can be painful. The emotional suffering of knowing that eventually it will be time to depart can be overwhelming. The physical challenges of constant caregiving to your loved one can also add more water to the bucket. While trying to provide the best hospice care, it can be difficult for family members to take care of themselves — maintaining their physical, emotional, and psychological health.
Some common symptoms of stress in hospice family caregivers include:
Feelings of emptiness, despair, and loneliness
Feelings of guilt and regret — for things you did or did not do when hospice was well.
Feelings of anger for yourself (on being helpless), God, or doctors
Feelings of fear of facing your life without that person
Fatigue
Weight loss
Insomnia
In addition to the patient, hospice care also focuses on family members, helping them sail through their times. However, here are the 7 effective ways to cope with the emotional and psychological stress you may experience these days.
1. Accept your feelings
You may want to suppress your feelings associated with the terminal illness or death of your loved one. But it harms more than a knife. There's no way out of it except to let it be as it is.
It is okay to feel bad, yell at the heavens, or cry desperately. Anyone in your shoes would have suffered the same. The key is to accept your feelings and thoughts. By doing so, you allow yourself to move on with life the way it is.
2. Express your feelings
By asking to accept your feelings, we don't mean to repress your feelings. Do share your emotions and thoughts with others you can lean on. Cry your heart out with your closed ones. Just unload the heavyweights you carry inside.
You can talk your feelings with other family members, friends, or others close to your heart. If you can't go to their place, invite them to your's, or have a quick Zoom chat with them. Express your feelings with yourself— find a corner and cry your heart out. You can also jot down your emotions in a journal. You will feel like someone lifted a heavyweight from your heart.
3. Talk about good memories together
The more you communicate with the hospice patient, the more you feel better. Talking and recalling the things you have enjoyed with one another, what you liked most about each other, for what you are grateful for, and the dreams you saw together can heal both of you.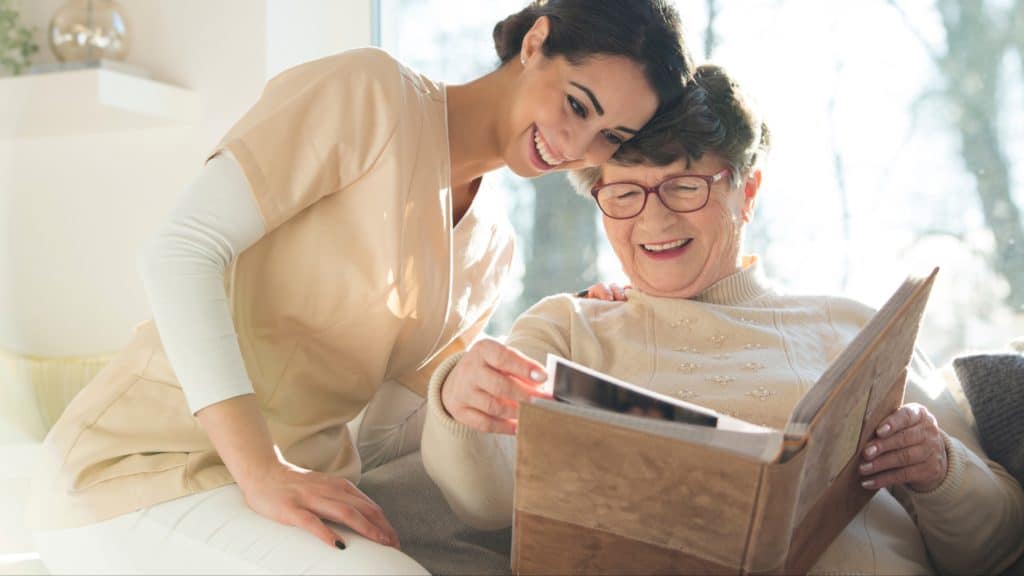 Tell the hospice patient that you are happily here to serve them and they are not a burden for you. It will surely make them feel better. Best yet, it makes you feel better about yourself. It convinces your subconscious to happily bear the burden they put on you. It makes you stronger than before, helping you effectively cope with the situation.
4. Make some time for yourself
People try and go beyond their limits while taking care of their loved one who is in hospice. Well, that may be a nice thing to do. But it takes a toll on their personal life. We recommend making some time to take care of your tasks. Don't forget yourself while taking care of others.
Take a shower. Eat healthy foods. Do some indoor exercises (if you can't go to the gym). Read some books on how to manage your emotions. Spend some time doing your hobbies and things you like. With good mental and physical health, you can take better care of the hospice patient. It is a win-win for both of you.
5. Share your responsibilities
Don't panic yourself becoming a one-man army for your loved one who is in hospice. You can't do it all at once. Share your duties with other family members. You can divide and assign the hospice-related tasks between all family members. You can also ask a friend for help if you've got no other member with you.
Consider joining a hospice care center. A hospice care system can help you take better care of your loved one. If you prefer getting hospice care, some hospice institutes also offer in-home facilities. Hospice care systems can also help you tackle your emotions and feelings. They can assist with coping with grief and loss when a loved one is in hospice.
If you need hospice care to make it comfortable for your loved one, Hospice Valley offers the best hospice care for your loved ones. We can make their time more comfortable.
6. Join hospice support groups
By joining hospice support community groups, you can get valuable insights from other people going through the same events. You can talk with others, know about their strategies, and apply them in your life and enjoy the benefits. Knowing that they have also experienced the same, you can pour your heart out to them, and they will better understand your situation.
Some popular hospice groups include The Compassionate Friends (support after demise of your child), AARP Grief and Loss Resources (support after passing an elderly). You can find more about hospice groups here.
7. Seek Counseling
Sometimes, the grief and pain won't go away by itself. The pain of being helpless, the pain of regrets, and the pain of seeing your dearest ones in hospice care. Sometimes, you may feel exhausted and find no courage to fight for your loved ones. That's when you should consider seeking help from a counselor.
We recommend seeking professional counseling if you blame yourself for demise or being unable to prevent it, or feel like 'you should've died with your loved one,' or are disconnected from others, or are unable to carry your daily activities.
The Bottom Line
Taking care of your loved one who is in hospice can be emotionally and physically stressful. Accepting and tangibly expressing your feelings with others, recalling your good memories with the hospice patient can reduce emotional stress. Eating well, doing exercise, and giving yourself some personal time can benefit your physical health. Hospice care facilities are also available that can share your responsibilities. Joining hospice support groups can give you tips to manage such situations. Help from professional counselors can help you figure out a way to relieve your stress and grief.
If you need assistance Hospice Valley of Los Angeles is always here to help regardless of your situation. Give us a call at (818)433-0068. We will be more than happy to explain how we can help and how we can provide assistance to your loved one.
Are you seeking hospice care?
Receive care from one of the highest rated providers